Longmead. A real home, from home
Accommodation
The guest side of the house is let as self-catering accommodation to one group at a time. This means that you have exclusive use of the following:
Downstairs:
·    large kitchen
·    dining room with large table seating up to 14
·    lounge with table seating up to 8 and lounge furniture
·    large lounge with lounge furniture and TV
·    large studio/games room with table tennis, pool table, air hockey & table football
·    quiet room
·    accessible wet room
·    patio and gardens. Trampoline, climbing frame and swings for smaller children are available but are used at your own risk.
---
Upstairs:
We can accommodate up to 16 people in the following rooms:
·    Room 1: (ground floor) 2 single beds and small sofa bed (would suit 1 adult or 2 young children)
·    Room 2: 2 single beds, 1 z-bed, and washbasin
·    Room 3: 1 double bed, 1 single bed
·    Room 4: 3 single beds
·    Room 5: 3 single beds, bunk beds & washbasin
In addition there are:
·    2 shower rooms with washbasin and toilet;
·    2 bathrooms with bath and shower above, washbasin and toilet;
---
N.B. Visitors must bring their own pillowslips, single duvet covers/topsheets and base sheets (or pillowslips with sleeping bag); and towels. Pillows, blankets and duvets are supplied.
We regret that at present we are not equipped to accommodate people with a significant disability although there is a stair lift and accessible bathroom downstairs.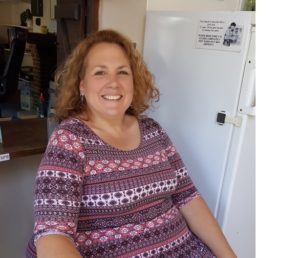 April is here to help
Hi, I'm April. If you have any questions about bookings for your stay at Longmead, I'll be delighted to help.
April
Booking rates:
Overnight letting: From 3.00 p.m. to 12.00 p.m. £250 (up to 16 people)
(Additional day visitors (not using bedrooms) who are part of a group using the house for overnight stays are charged £8 per day per person in addition to the rate above)
Daytime letting of house: £25 per hour or £180 per day
Hire of one room (with use of the kitchen and downstairs bathroom): £15 per hour or £100 per day
Booking enquiries If you would like to enquire about making a booking please contact April, Email us, or download the booking form to complete