Longmead is a small holding of 6 acres in the beautiful Dorset countryside.
Longmead is an independent charity which is governed by a group of dedicated trustees.
Despite its rocky soil, it has a large productive kitchen garden with a polytunnel. Here fruit and vegetables are grown to sustain our community and feed our visitors. We also have a small orchard where some of our sheep roam and our bees have their hives. Beside the car park is a small wood which is perfect for den building. The animals, which all love to help feed and be greeted by, currently include kune kune pigs who love their tummies tickled, friendly goats who love a walk down the lane, some lambs, some rescue chickens and some ducks. Freshly laid eggs are gathered daily and used to bake cakes and make fry ups 🙂
When we want to be creative we head to the barn where there are workshops for wood working and a lathe to try woodturning. Upstairs a log burner heats the art room where people can turn a clay pot, paint a canvas, make lanterns and try their hand at various other art and craft activities that are available.
Inside the house we can enjoy the lounges for playing board games or the piano whilst the log burner warms us. A big dining room provides space for us all to eat together around the table talking about the activities. A quiet room gives us some space for reflection and simply being whilst a large games room gives us an opportunity to use up any energy playing table tennis, pool or table hockey. Upstairs we have bedrooms to sleep families, allowing upto 16 guests to stay at any time- that would be a very large family! Behind the house more energy can be burnt up bouncing on the trampolines, swinging or climbing and sliding. But when it gets dark the campfire gets lit and embers glow to toast marshmallows on long sticks gathered from the wood.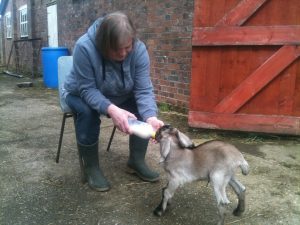 Words from a Longmead guest
"Its given my family a very good boost from what we have been through…a lifeline for us because we were in B&B and we got offered to come to this place and we did and we love it and we keep coming back."